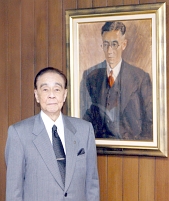 Be the Only One
in the industry with advanced technology
RISHO KOGYO started as an electric insulation material manufacturer in 1921.
Since then, we have been expanding our business by producing materials for electronics, industrial material based on polymer chemistry, epoxy casting electric appliances and have 90 years of history as of 2011.
I recall that I took over the position of the president of RISHO KOGYO Co.,Ltd in 1961 because the founder, my father passed away when I was 31 years old. Now I would like to announce that I pass my position to my successor and assume the position of Chariman & CEO after being president for 50 years.
During these periods, I considered that development is the most important thing for us. Our core technologies are laminating technology and casting technology. I have been trying to diversify our product line by refining these two technologies.
I believe it is important for us to have high market share even though it's a niche market. In order to survive in the current competitive global market, we have been developing to be the leader of the global market. I appreciate your continual support and guidance.